The Evolving Citizen: American Youth and the Changing Norms of Democratic Engagement
by
Jay P. Childers
has been published by the Pennsylvania State University Press.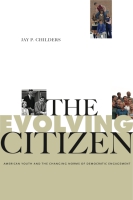 The Evolving Citizen . . . argues . . . that democratic engagement has not gotten worse—it has simply changed. Through an analysis of seven high school newspapers from 1965 to 2010, this book shows that young people today, according to what they have to say for themselves, are just as enmeshed in civic and political life as the adolescents who came before them. American youth remain good citizens concerned about their communities and hopeful that they can help make a difference. But as The Evolving Citizen demonstrates, today's youth understand and perform their roles as citizens differently because the world they live in has changed remarkably over the last half century.
Jay P. Childers is Assistant Professor of Communication Studies at the University of Kansas.