Cul de Sac
is a new book for your reading pleasure, by
Edna Bell-Pearson
.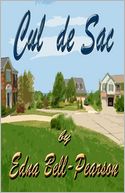 Woodland Circle, a cul de sac in the retirement community, Paradise Village, is not Wisteria Lane. However, no household is without its secrets, concerns and agendas.

What our friends do not know is that a newcomer—an author who chose the peace and quiet of Paradise Village to write a book—is writing it all down.
Cul de Sac is available at Amazon and Barnes and Noble.
Edna Bell-Pearson is a widely published writer of short stories, articles, essays and poems. Her first book, Fragile Hopes, Transient Dreams And Other Stories, published in 2006, was chosen by the Kansas State Library as one of 150 Best Kansas Books—those considered the best books written by Kansans and/or about Kansas in the past 150 years.
Whereas Fragile Hopes, Transient Dreams is considered an in-depth fictional study of life on the Great Plains during the 20th Century, Cul de Sac — also written as a series of short stories — is a fictional study of retirement life.