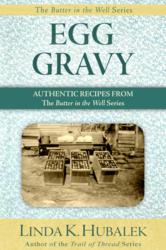 Butterfield Books Inc. commemorates Easter by updating the book,
Egg Gravy
, the third book in the
Butter in the Well
series by Kansas author
Linda K. Hubalek
and sharing recipes from this book for the upcoming weekend.
"For centuries, spring and eggs have symbolized Easter. For the early pioneers, spring also meant getting a supply of eggs again because their hens stop laying eggs during the winter," said Hubalek, the author of several books about Kansas homesteaders.
While Hubalek researched her Butter in the Well book series, she found very old recipes handwritten on scraps of faded paper, in margins of old cookbooks, and in the memories of the pioneer's children she interviewed. As a result, Egg Gravy is a collection of recipes pioneer women used during their homesteading days.
"It was interesting to see what cooks in the 1800s did with an extra supply of a farm product, and what they made for special occasions. Angel food cake, made with the egg whites, was a favorite for holidays and birthdays, but then they had the egg yolks to use up too", said Hubalek.
Founded in 1994, Butterfield Books Inc. publishes and promotes books about Kansas and its pioneer history. The company is located in Lindsborg, Kansas, known as "Little Sweden USA."
Hubalek writes books about the pioneer women who made Kansas their home, and include the Trail of Thread, the Butter in the Well, and the Planting Dreams series. (From PRWeb.)