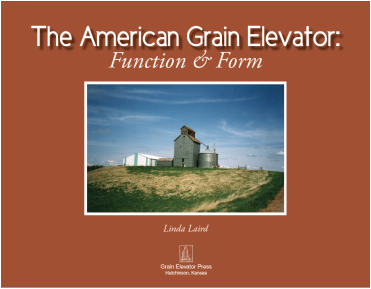 Grain Elevator Press
, Hutchinson, was notified this week that their first book
The American Grain Elevator: Function & Form
is a finalist for two prestigious awards for small press publications.
The book was recognized as a First Horizon Award finalist for the current national Eric Hoffer Award season. The First Horizon Award is given each year to the highest scoring books by debut authors. This is a special distinction beneath the Eric Hoffer Award umbrella. The book is still being considered for category, press, and grand prizes.
It is also a finalist in the Illustrations: Photography category of the Midwest Book Awards which provides recognition to regional small presses.
Press owner and author, Linda Laird, said, "Who'd have thought a little book on grain elevators would garner such enthusiasm across the country? This national interest has been seen in our sales as we have rapidly moved to a second printing. Our next book will hopefully be out before Christmas and will focus on the history of grain elevators in Kansas." Books may be purchased at www.grainelevatorpress.com or by sending a check for $26 to Linda Laird, 502 E Sherman Hutchinson KS 67501.